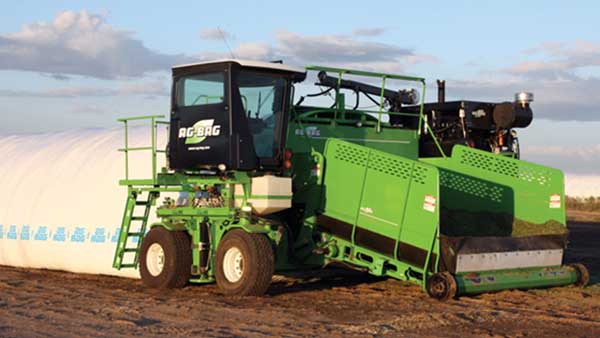 Ag-Bag offers the AB1214 Professional Ag-Bagger, available with interchangeable 12 and 14-foot tunnel options.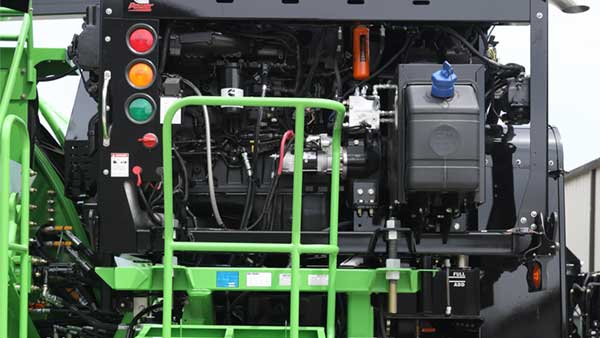 Cummins QSX 600 HP Engine
This powerful Tier 4 600 horsepower engine has standard features that other diesel engines cannot even offer as options. Dual Overhead Cams – The first drives the high-pressure fuel system, the second operates the intake and exhaust valves. The patented Wastegated Turbo maximizes performance at every rpm. The High-Pressure Fuel System provides a cleaner, more complete combustion.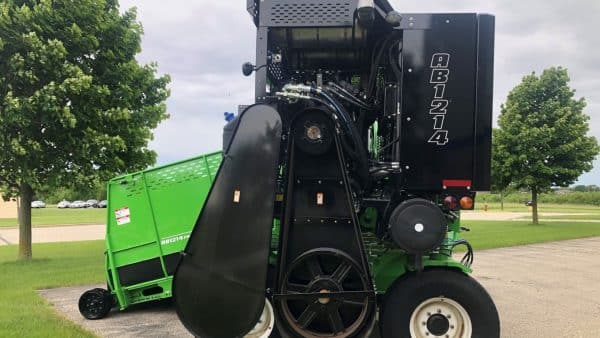 Horsepower is one thing, but transferring it from the engine to the rotor is another. Smooth 14 groove Kevlar V-belts transfer power from the engine to the large GB13000 planetary, driving the massive eleven-foot "full width" working rotor, resulting in a high-capacity feed intake system.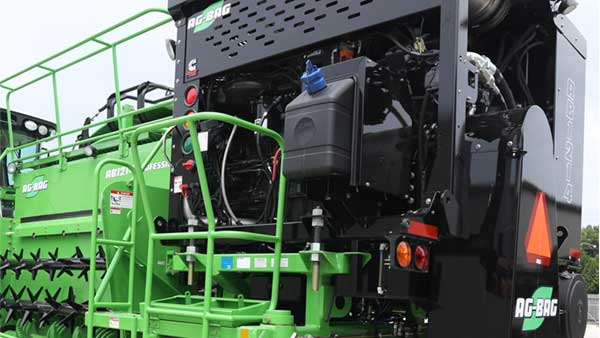 The AB1214 Professional Ag-Bagger is built with your tough demands in mind. The AB1214 Professional is driven by four Class 5 Black Bruin wheel drive motors. They feature a compact design, rotating housing, superior starting torque, smooth low-speed operation, and mechanical freewheel capabilities for long life and outstanding performance.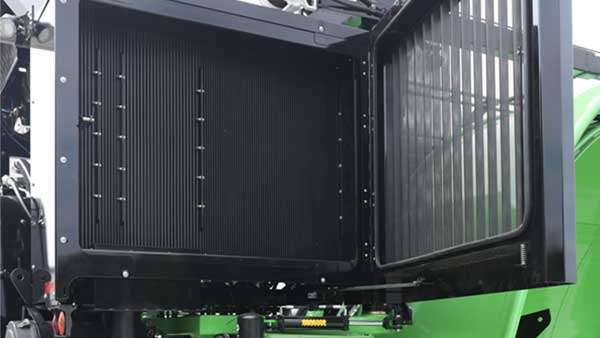 With 600 HP and long working days in field, the AB1214 features a large radiator package with easy cleanout access to keep the machine cool and running. With this Professional AB1214 engine and cooling package, an operator can be confident that this durable, high-capacity machine will continue to store your forage with the best quality.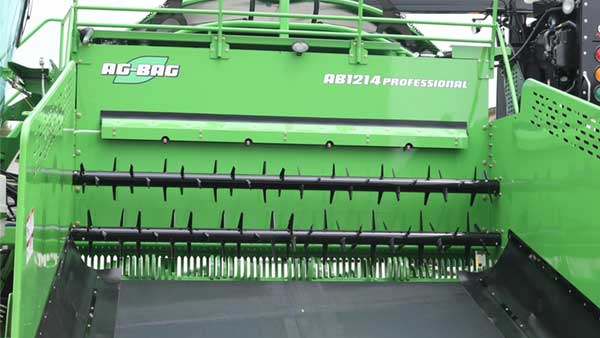 The AB1214 features a 21″ diameter rotor with a working width of 11 feet. The 128 weld-on abrasion resistant tine caps and tines are attached to a 9″ x 2″ wall annealed rotor tube for strength and long-term durability. The rotor is mounted in a low-profile position to ensure the Ag-Bag is packed as dense and uniform as possible for the highest feed quality storage along with unmatched efficiency and function through all crop conditions.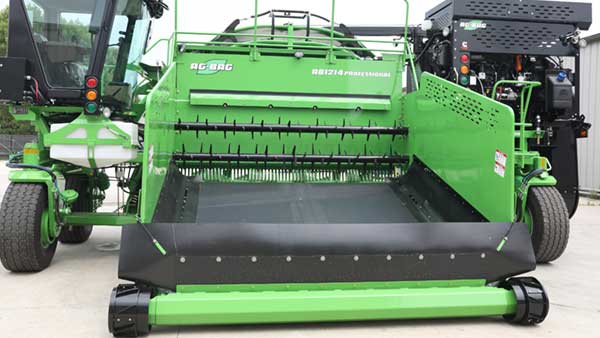 The full-width feed table is comprised of a hydraulically driven endless 108.5" wide belt and is raised and lowered hydraulically. Plus, two hydraulic-driven beater bars evenly disperse the silage into the rotor for uniform packing and a smooth bag.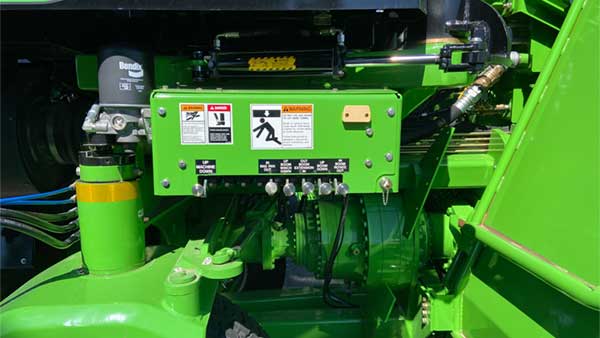 Conveniently located next to the bag boom at ground level, the controls allow the operator to control the bag boom, jacks, and bag pan for quick and easy operation of all service functions.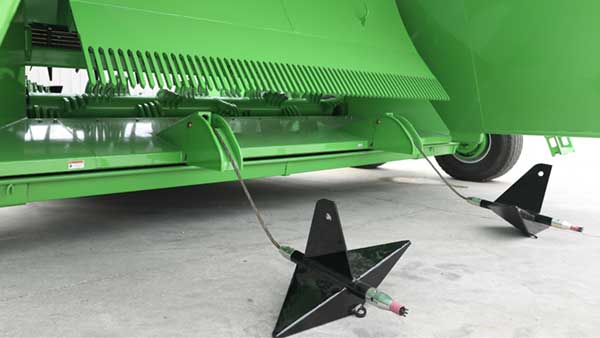 Anchors and Tunnel Cleanout
To ensure dense Genuine Ag-Bags, the AB1214 utilizes a proven dual anchors powered by a hydraulic cylinder to allow retraction under full load as needed. Also, the AB1214 has a hydraulic, sweeping tunnel clean-out designed to make clean-out and bag completion a breeze.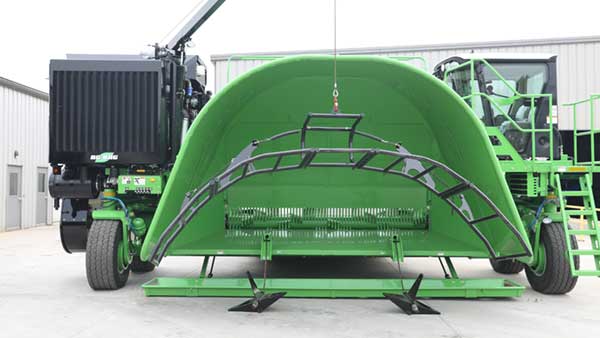 To make installing a Genuine Ag-Bag onto the tunnel as easy as possible, the AB1214 is equipped with a bag boom with hydraulic winch and hydraulic extension cylinder and remote pendant to lift the bag into place.
The cradle is collapsible to make it easier to install the bag on the cradle and to conform to the tunnel.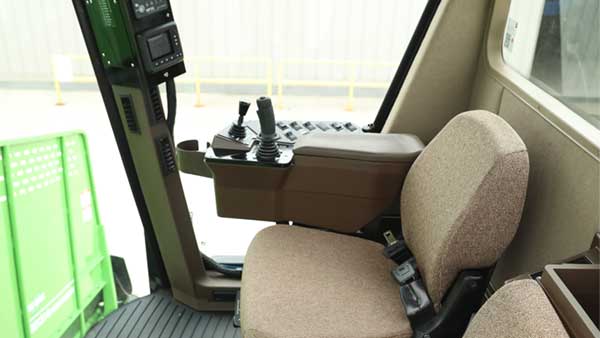 Operator comfort is a top priority. We want you to spend your working hours in quiet comfort, with a panoramic view of the full operation. With the new electronic steering, convenient armrest controls and column mounted function center, there is no console or other obstructions to impair the operator's field of vision. Roomy, with an instructional seat, and standard AC, the Deluxe Cab makes long days shorter.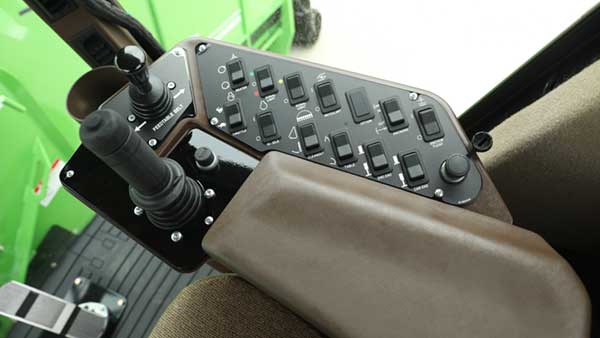 From the comfortable cab, the armrest control center provides easy to understand operational controls and joystick to set-up and adjust the machine as needed.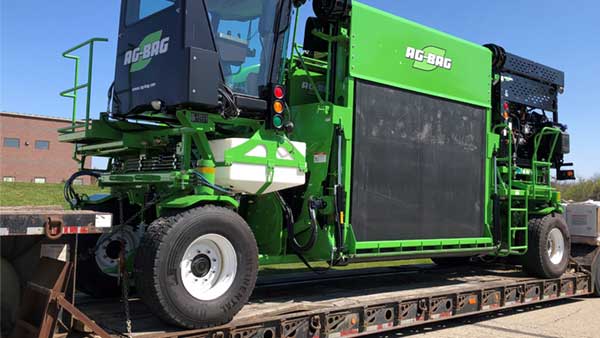 The AB1214 is specifically built for transportation in mind. When the feed table is folded up and retracted to the transport position, and the wheels are moved into transport mode, the AB1214 can be loaded and hauled on a RGN trailer. This exclusive feature is unique to the AB1214 Self-Propelled Ag-Bagger design.
Ag-Bag Plastic was founded by a group of people dedicated to supplying high-quality plastics. Our highly-trained sales staff and the best raw materials available make us the leading manufacturer of high-quality polyethylene materials. After all, plastics are our business.
Your forage is more valuable than ever before. Ag-Bag by RCI recommends protecting your forage crop by using Ag-Bag Boost, an enhanced forage inoculant. Both water soluble and dry inoculate are available to protect your forage and ensure top quality feed.  
FIND A DEALER
We have over 100 Ag-Bag Dealers across the US and Canada that carry the innovative Ag-Bag equipment and products and offer service and parts. Locate the dealer nearest you.